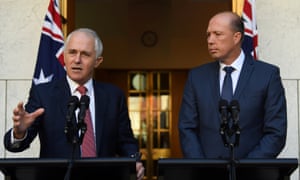 When this articulate man starts to jibber and cling to feeble logic you know the game's over – and Peter Dutton is looming
Source: The incredible shrinking Malcolm gets even smaller spouting 'Australian values' | Greg Jericho | Australia news | The Guardian
Can't disagree with any of this. This government, and Malcolm Turnbull in particular, are a disgrace. In a way he's worse than Abbott. Abbott was an idiot, and everyone knew it, but he did at least stick true to his (offensive) principles.
Turnbull is no idiot, but he is terribly weak. I'm very sure that he knows he is spouting nonsense and that effectively he's leading the country down the garden path – but his own political survival is more important. Forget his good intentions, he's a good man gone bad, and any principles he started with are long since discarded.
The true deplorable's are our government.